May 16th, 2006
NYC cocktail field trip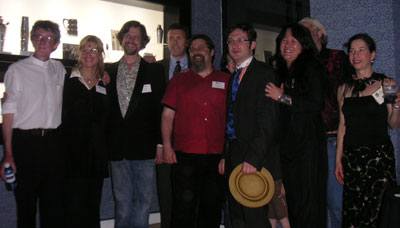 Left to right: MOTAC founders Gary Regan, Audrey Sanders, Jared Brown, Phil Greene, David Wondrich, Eben Klemm, Anistatia Miller, John Myers (hidden), Jill DeGroff.
May 13, 2006 was the 200th anniversary of the cocktail. Actually, it was the 200th anniversary of the first time the term "cock tail" appeared in print, according to the Museum of the American Cocktail (MOTAC). I went to New York to join in one of two anniversary celebrations taking place simultaneously that day: one at the new Manhattan bar Balance (215 W. 28th St.) and one at Commander's Palace in Las Vegas, where most of the items once housed in MOTAC's original New Orleans location now reside. At Balance, there was a small, satellite display of MOTAC artifacts, including a gleaming silver-plated Boston shaker set courtesy of David Wondrich, one of the museum's founding members and the drinks writer for Esquire.
David happened to be standing right next to me as I ordered my first drink at the bar. Tickled to meet the guy, I put out my hand and introduced myself as a freelance writer from Boston. He mentioned the latest issue of Esquire with the annual roundup of the World's Best Bars and apologized for the scant coverage of Boston, vowing to make up for it in the future. OK, David, I guess I won't have you fired. He asked me what I was working on. "Uh, a web site," is all I could come up with. Wow, way to impress the Esquire guy.
There were cocktail demos: David did a Rob Roy, Audrey Sanders of Pegu Club fame made a French Pearl (gin, Pernod, lime juice, simple syrup, mint), Gary Regan mixed a Bacardi Cocktail and announced, to loud cheers, that he had just become a U.S. citizen after 32 years in this country. Dale "King Cocktail" DeGroff was at the Vegas celebration (a live feed of which was played on a video screen), but his wife, Jill, and two sons were working the New York event. "Would you like to meet some of the mixologists?" Jill asked and introduced me to MOTAC founding member (the museum has a lot of founding members, who essentially fomented the cocktail revolution through chats on Robert Hess' site drinkboy.com) and Portland, Maine, bartender — uh, mixologist — John Myers, who dreams up the drinks at a new restaurant called Oolong. One of the DeGroff lads was mixing drinks with fresh-faced, twinkle-eyed aplomb. As he smoothly stirred a Rob Roy, someone remarked that he had the same unhurried polish behind the bar as his father.
After the event, the core MOTAC bunch, plus a few others, regrouped at Audrey Sanders' West Houston Street lounge Pegu Club. (Audrey bowed out, but who could blame her; it was the poor woman's night off). Hanging out at a place where you can order Brooklyns, Scoff Laws, Corpse Reviver 2's, and all manner of other vintage cocktails without the bartenders batting an eye is a real treat. The best drink I had there was a house specialty, the Fitty-Fitty: half gin (Plymouth, I believe), half dry vermouth, a dash of orange bitters, and a lemon twist, served in a glass that felt like it had been formed from an icicle. It had a cleansing effect, like a swim in a glacial pond.