December 29th, 2006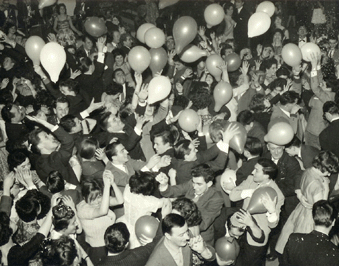 Every barfly knows that the worst day of the year to go out drinking is New Year's Eve. "It's amateur night" is a phrase that has been beaten to death, but that doesn't make it untrue. With its cutthroat competition for barstools and its glittering expectations, the whole night is designed to make you feel like a failure and a chump. A failure for being unable to find or get into the absolute perfect nightspot on the busiest evening of the year, and a chump for winding up at a place that charges $100 for the privilege of eating some "passed appetizers" and being able to say, 'Yes, I have New Year's plans!" Woooo.
One of the best places to be on New Year's is behind a bar, working. You make a lot of money, and you get to party after hours once all the drunken Todds and Ambers have gone home or hooked up at the Westin. If you're not a bartender, try to get yourself invited to a party — preferably one you don't have to drive to.
Often, neither of those options are in the cards, and you think, 'It's New Year's! I can't just stay home!' I know. I've been there. What I've done in those situations is seek out bars that are open on New Year's but aren't making a big deal out of it other than passing around some cheap bubbly at midnight. Irish pubs like the Druid and Plough and Stars in Cambridge, the Tir Na Nog in Somerville and J.J. Foley's in Boston (21 Kingston St.) are generally good for this kind of evening. (The Littlest Bar in Boston was a great place for a New Year's Guinness or two, but a luxury condo developer killed this treasured spot. Sigh.) The two Bukowski Taverns in Boston and Cambridge throw their annual F*ck New Year's party, where the first dozen or so people who walk in are handed a dollar — instead of having to pay a ridiculous cover charge. Nice touch.
If you're looking for a more stylish option, you might want to brave the lines to get into Central Square's Middlesex Lounge or Enormous Room. Both of these places are charging only $10 and will have plenty of fun-loving hipsters grooving to DJs.
And if you think you might want some decent food to go with your celebratory beverages, for the love of god do not fall into the trap of the mediocre $150 four-course meal. B-Side Lounge does not charge a cover and serves a few special New Year's dishes on top of its regular menu of superior comfort food. Same format but bigger menu at Eastern Standard, where the dining room is fully booked but the spacious bar area is a free-for-all. You'll get great cocktails and really good food at both these places without feeling like a penniless chump afterward. And maybe you'll meet some accommodating soul who's on his/her way to a good house party.
Posted in Boston bars, Events | No Comments »